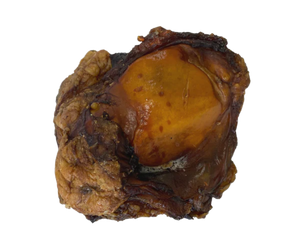 Introducing Beef Knee Cap for dogs! Brighten up your pup's day with a tasty and 100% natural treat made from a single-ingredient - beef knee cap! Succulent and savory, this treat is sure to become a favorite. Is your pup drooling yet? Treat them today!
These chews are 100% natural & sourced from USA beef processed at Clint & Sons Processing in White Deer, Texas! 
These beef knee caps are slow roasted to perfection, and a great treat for any level chewer!
These chews do not contain harsh chemicals, artificial flavors & color, or preservatives!
This is a single ingredient dog treat!
Safety: Please provide your dog with plenty of water while consuming this treat. Monitor your dog as they enjoy this bone for some small pieces break off and can become a choking hazard. If the bone begins to splinter or develop sharp edges, dispose of the treat immediately.
Due to the lack of chemicals on these treats they will mold if not kept in open air or frozen!
IF YOU'D LIKE TO HAVE OUR TREATS SHIPPED, PLEASE ORDER HERE.