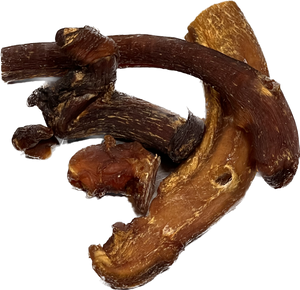 Just The Tips are 5 ounces of left over trimmed pieces of our Bully Sticks! Perfect for offering your furry friend a healthy, delicious treat that'll keep them happy and their tail wagging! Delight your pup with our 100% natural single-ingredient bully sticks - Spark wagging tails and joyful leaps with "Just The Tips." Because when it comes to treating your pup, it's all about big taste in tiny packages!
These bully sticks are 100% natural & sourced from USA beef! 
These chews do not contain harsh chemicals, artificial flavors & color, or preservatives!
This is a single ingredient dog treat!
Safety: Please provide your dog with plenty of water while consuming this treat. Monitor your dog as they enjoy this treat for some small pieces break off and can become a choking hazard. If the treat begins to splinter or develop sharp edges, dispose of the treat immediately. 
IF YOU'D LIKE TO HAVE OUR TREATS SHIPPED, PLEASE ORDER HERE.